Modes
If hikers are in search of adventure, the setting offers the perfect terrain for following The Fifth Lake trail by mountain bike, on horseback and even astride a Catalan donkey.
There are a broad spectrum of outdoor pursuits supervised by qualified instructors that will get you started you and escort you to enjoy the activities in the utmost safety.
Slow

For those who want to walk for just a half day, covering 16-18 km in 4-6 hours.
Guiding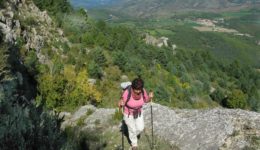 Ideal for those who want to relax and enjoy the route in the company of an expert local guide.
From 16 to 22/10/2016.
Read more →
MTB

Cycle through some least-known valleys in the Pyrenees